In our Programs for Partnerships, we bring together GLAM, Wikidata/Tech and Advocacy to collaboratively acquire, disseminate, and advocate for digitized collection of open source (or potentially open source) works, objects and data, in the most effective way. We are setting partnerships with cultural and other institutions and we build Wikidata – an open, collaboratively developed international networked data infrastructure.
GLAM
The mission of many public institutions and Wikimedia Foundation projects is very similar: to preserve the cultural heritage and to educate or inform the public. The possible collaboration is a win-win strategy: the institutions provide valuable content that Wikimedia can bring to many more people and introduce it in the context of other topics.
The wiki-project GLAM (Galleries, Libraries, Archives, Museums) promotes the cooperation with (not only) cultural institutions: together we host wiki-events, arrange the sharing of media and information, create openings for wiki-residents and much more.
Wikidata/Tech
We are helping to build a huge database for Wikipedia (and beyond) called Wikidata, for everyone to draw on. We invite Czech institutions and individuals with a passion for data to help us build this open, collaboratively developed international networked data infrastructure.
We organize educational events focused on the technical side of Wikimedia projects, such as workshops, lectures or hackathons, and establish data collaborations with institutions.
Advocacy
Even Wikimedia needs protection. Whenever legislative changes jeopardise the project, we take a resolute action either by defending Wikimedia's interests or by taking advantage of newly opened opportunities.
In order to be as effective as possible, we are building a network of institutions with shared interests. As a Wikimedia movement, we also have a representative in Brussels. Dimitar Parvanov and his team actively lobby for free content in the Free Knowledge Advocacy Group EU.
Event calendar
26. 09. 2023
Otevřená Wikimedia: Programy pro partnerství
Program news
On Friday 9 June, the National Library hosted the opening… Read more »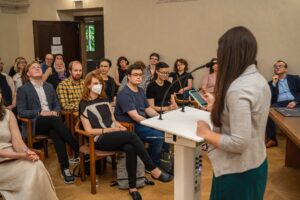 All news
More about program activities

Are you a representative of an institution and want Wikimedia to help you with your mission or to make you more visible? We are honored to help! Together we can publish your content on Wikipedia and bring it to thousands of newly interested individuals or researchers, we can host Wikipedia workshops on your topics of interest, or we can assign a Wikipedian in residence to your institution. You can learn more about the advantages and possibilities of partnership at the GLAM website in the invitation to the institutions.
Are you a local patriot? Do you find Wikipedia, Commons or Wikidata meaningful and wish to use them to make your favorite museum, gallery, or institution more visible and get them on Wikipedia? You are the person we are looking for! We have our entire know-how, arguments, and the approach email template ready for you at GLAM invitation to the public.
Wikidata/Tech Teaching Activities
Our teaching activities consist of three types of educational programs, focusing on newcomers, advanced contributors and on training new lecturers who can further advance our activities concerning Wikidata.
We support conference talks on the topic of Wikidata and the creation of video guides for education.
We also promote writing of articles about the tools and apps based on Wikidata and translation of user guides.
Data Cooperation with Institutions
Our activities related to institutions comprise the following key points:
Help institutions understand the optimal form of data provision in order to fulfil their role of a data source.
Help institutions with the modification of their procedures so that they conform to the requirements for connecting with Wikidata and other systems.
Help institutions understand how to make use of their connection to Wikidata.
Help institutions with employee training and with searching for external cooperators.
For more detailed information visit information for institutions at the WikiProject Czech Republic website.